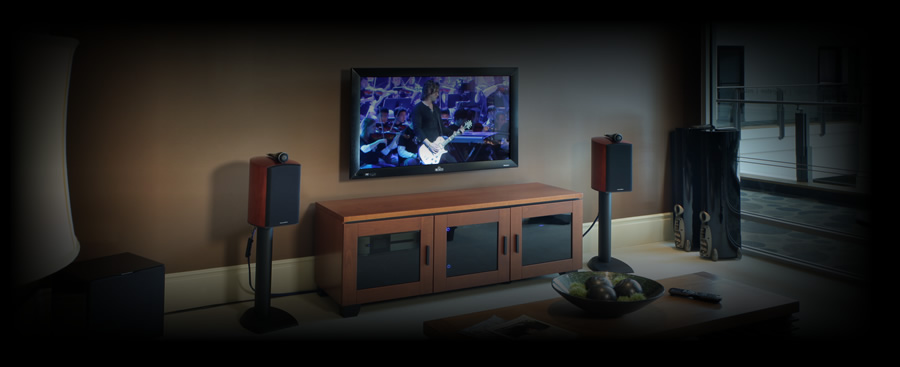 control the sound.
Whole house audio and video distribution has become very popular over the past ten years. Systems have become more simplified and the quality of the sound has dramatically increased. This technology has allowed consumers to fall back in love with listening to music.
Music servers, internet and satellite radio sources have done away with the task of loading up five CD's in a changer and setting it in random play mode. Now you can load your entire CD collection on a music server and access it from anywhere in the house. How would you like to turn on any TV in the house and select what you want to listen to on the screen of the TV? No more kneeling down and flipping through CD jewel cases looking for something different to listen to. All you have to do is turn on the TV, pick the artist you want to listen to and press play or perhaps select "random" playback and not have to touch the system for the rest of the day or evening.
Music system controls have also come a long way from the old rotary volume control knobs. Now you have a choice of wall mounted function keypads, high definition in wall displays that tell you the name of the artist and song being played as well as wireless control tablets that you can take anywhere in or outside of the house. The AVI Group represents some of the best music distribution manufacturers in the industry and can easily tailor and install a system that best suits your needs and budget.
audio
The AVI Group has partnered with a select group of manufacturers who build quality sounding products and stand behind them as well. Accurate reproduction of sound is one of the most difficult things to achieve when building audio components and speakers. Specific manufacturers have been selected to offer the best possible sound quality at any given performance level. From entry level to high performance, you can rest assured your recommended system will provide you with years of enjoyment.
video
With so many options in video displays available to consumers today, it's hard to know where to begin when considering a new flat panel TV for the living room or a projector and screen for the newly constructed or converted home theater room. Plasma, LED, DLP, Front or Rear Projection systems are just a few of the available formats. The AVI Group can help you navigate the vast array of choices by asking some key questions and qualifying your needs.
Not every video display will work well in every room. It's not only important to consider how the display will perform in the environment, but also how it will integrate into your home's style and décor. Unless it's a home theater, your video display should never be the center of attention in a room but more like a necessary accessory to the room. Selecting the appropriate equipment can guarantee a successful blend of textures and technology.